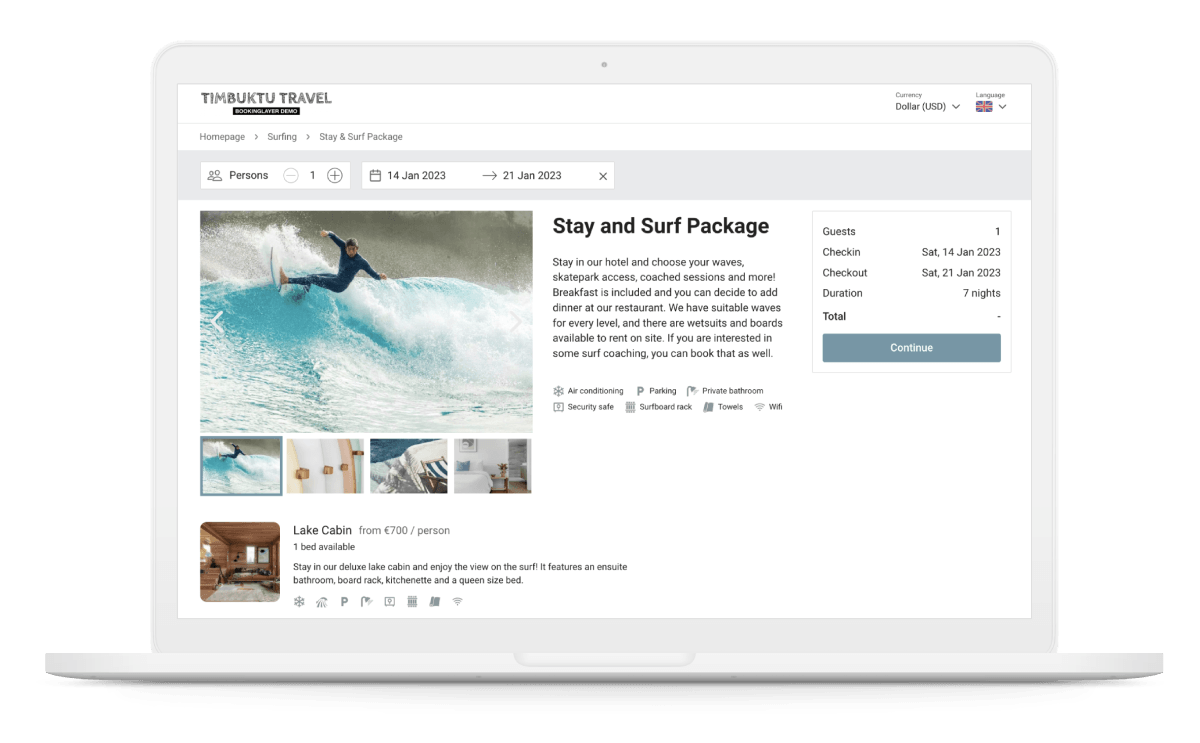 Reservation software for Wave Parks
Surf park operations streamlined: unleash the power of our dynamic wave booking system
Wave Reservation Management
Payment Processing
Digital Waivers
Ticketing & Invoices
Memberships
Customer Communication
Daily Operations
Reporting
Product Tour
Optimise your wave park and save time with Bookinglayer
Capture any type of booking

Whether it's a single surf session, surf coaching, rentals, accommodation-only or create-your-own-surf & stay, guests can easily book it directly through your website.

Single Wave Ticket
Multi Passes
Memberships
Surf Lessons
Surf Rentals
Accommodation
Merchandise

Control access and track purchases on site

Using our preferred access control provider, you can provide smart wristbands to your visitors to seamlessly track purchases and manage access to the lockers and wave pool.

Save time with a consolidated bill in Bookinglayer for on-site purchases and easily collect payment at check-out.

Get waivers signed before arrival

Enable customers to sign waivers digitally from a phone, tablet or computer through our guest portal and automatically send reminders for wave bookings with unsigned waivers.
Save hours per day on admin

Our easy-to-use interfaces empower you to organise and automate the most common and time-consuming daily tasks for reservations, wave pool access, session management, guided activities, rentals and accommodation.

Automate emails and notifications

Create personalised automated emails, text messages and attachments to handle all guest communication in a timely manner.

Create a fully customisable booking flow for your wave park

Gain full control over the booking system theme and CSS to match your brand's look and feel.

Decide which guest information is required in the booking flow and use our guest portal to get additional information post-booking. With a quick and easy booking process, you can increase conversions and provide a better booking experience.
Product Tour
Essential software for wave parks
Booking Engine
Accept online reservations for accommodation, rentals, and wave bookings around the clock. With an automated system, you'll reduce errors and enable better planning.
Learn about the Booking Engine

Backoffice
Save hours on admin with the most complete booking software suite on the market. With various user profiles, you can make sure your whole team has easy access to the information they need.
Learn about the Backoffice

Customer Portal
Capture a digital waiver and other essential data from your guests before they arrive, allowing your team to plan in advance and focus on providing an outstanding guest experience.
Learn about the Customer Portal

Payment Processing
Automatically collect online payments using your preferred payment gateway provider. Access your payment records and financial reports all in one place.
Learn about Payment Processing

Booking Widgets
Display upcoming dates and available spots on your website with a single line of code. Don't worry about updating your website each time you receive a booking.
Learn about the Customer Portal

Booking API
If you are on our Alpha plan your developers will be able to use our Rest API and Webhooks to interact with your Bookinglayer data.
Learn about the API