Backoffice
One central place to manage your daily operations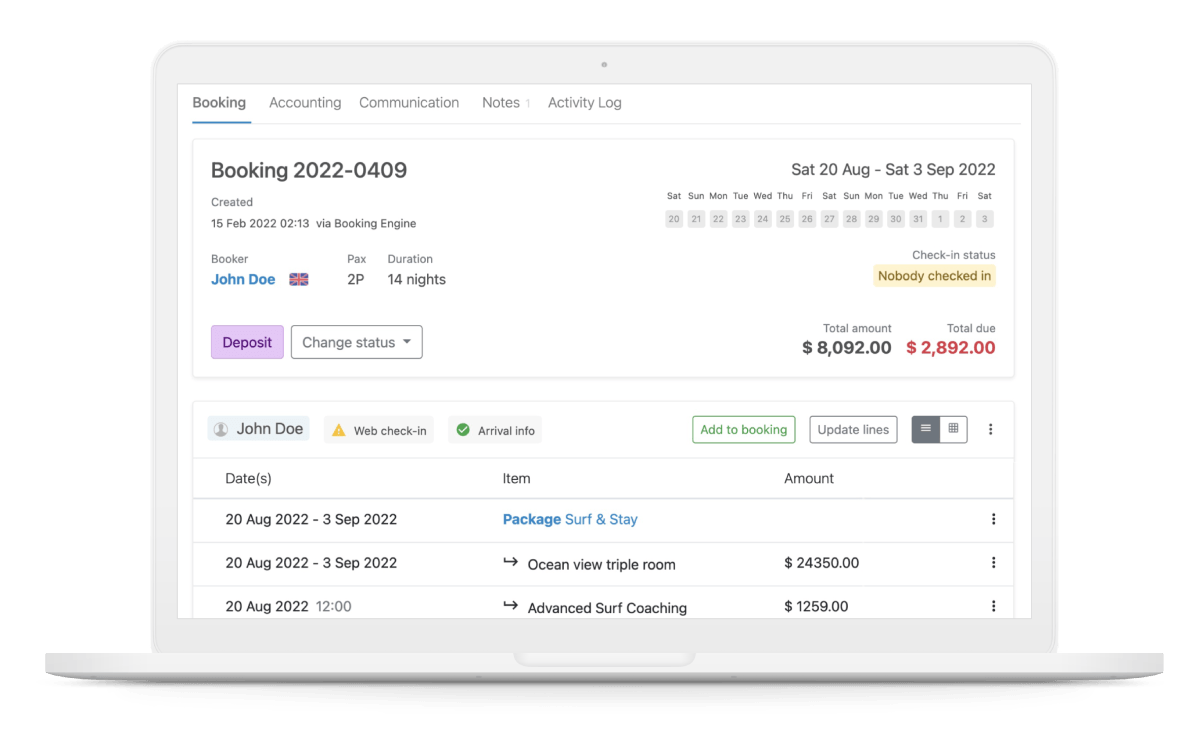 With smart automation tools and the ability to let team members work with an easy-to-use Backoffice, you can simplify your life and spend less time behind your screen.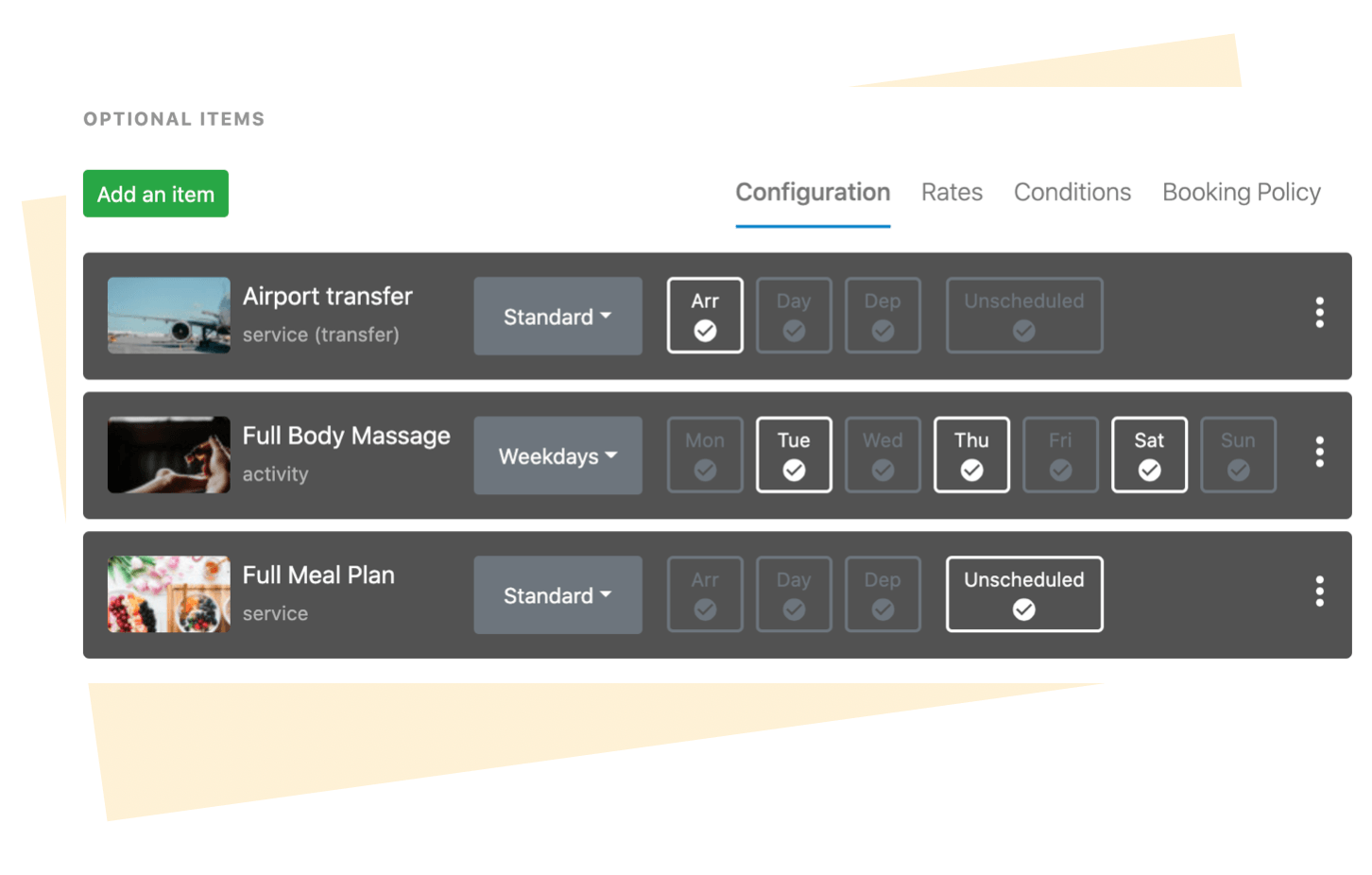 Package Builder
Sell your experiences
Using the Package Builder you can sell an experience as a package, whether that is a stay with additional services and guided activities or an all-inclusive retreat.
Reservation Management
One central calendar
Whether you receive a reservation through the Booking Engine, over the phone, by a walk-in guest or through a channel like Airbnb, they all sync to the same calendar.
Bookinglayer doesn't only manage the availability of your rooms but does so for your activities and services as well.
Accommodations
Activities
Services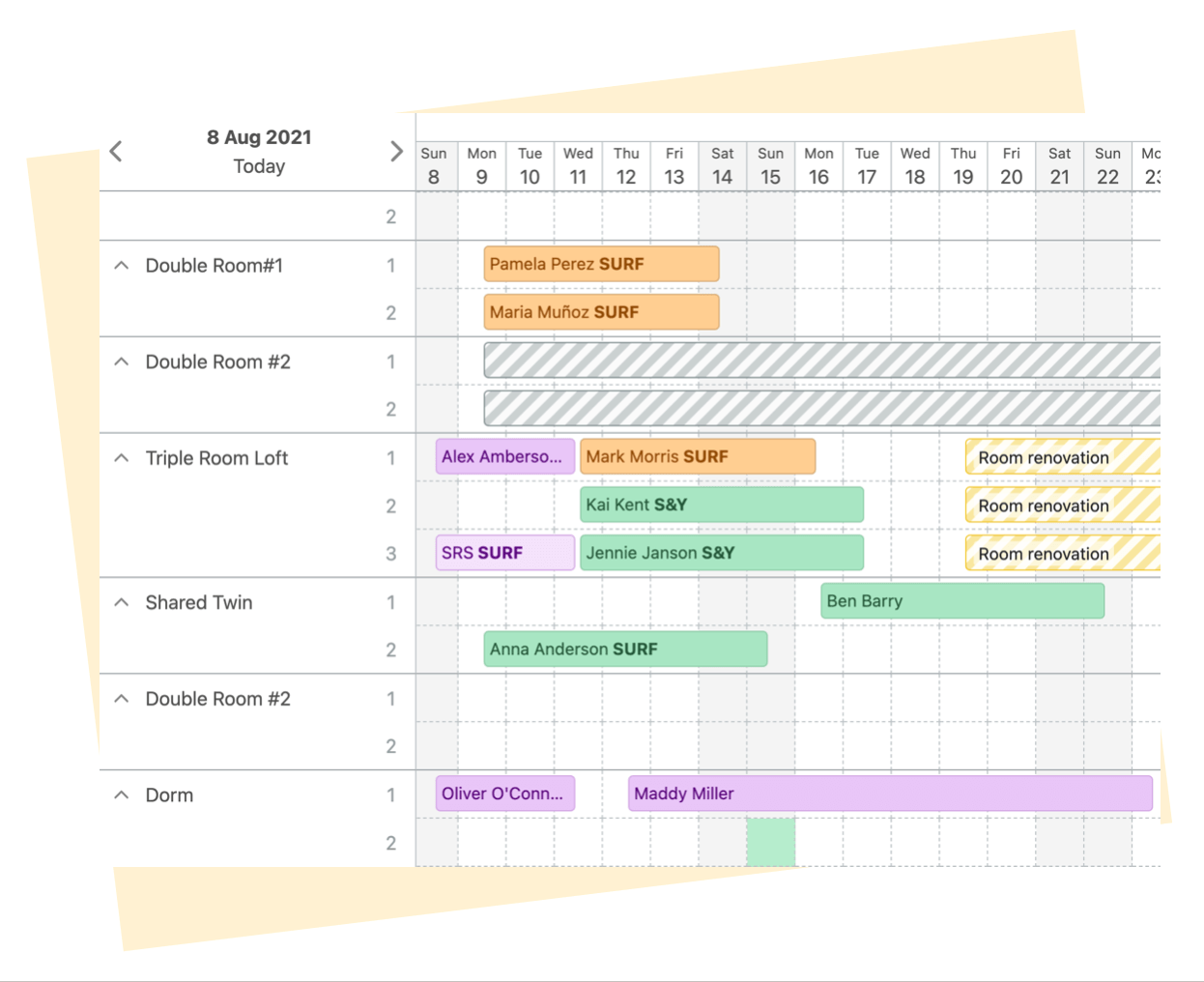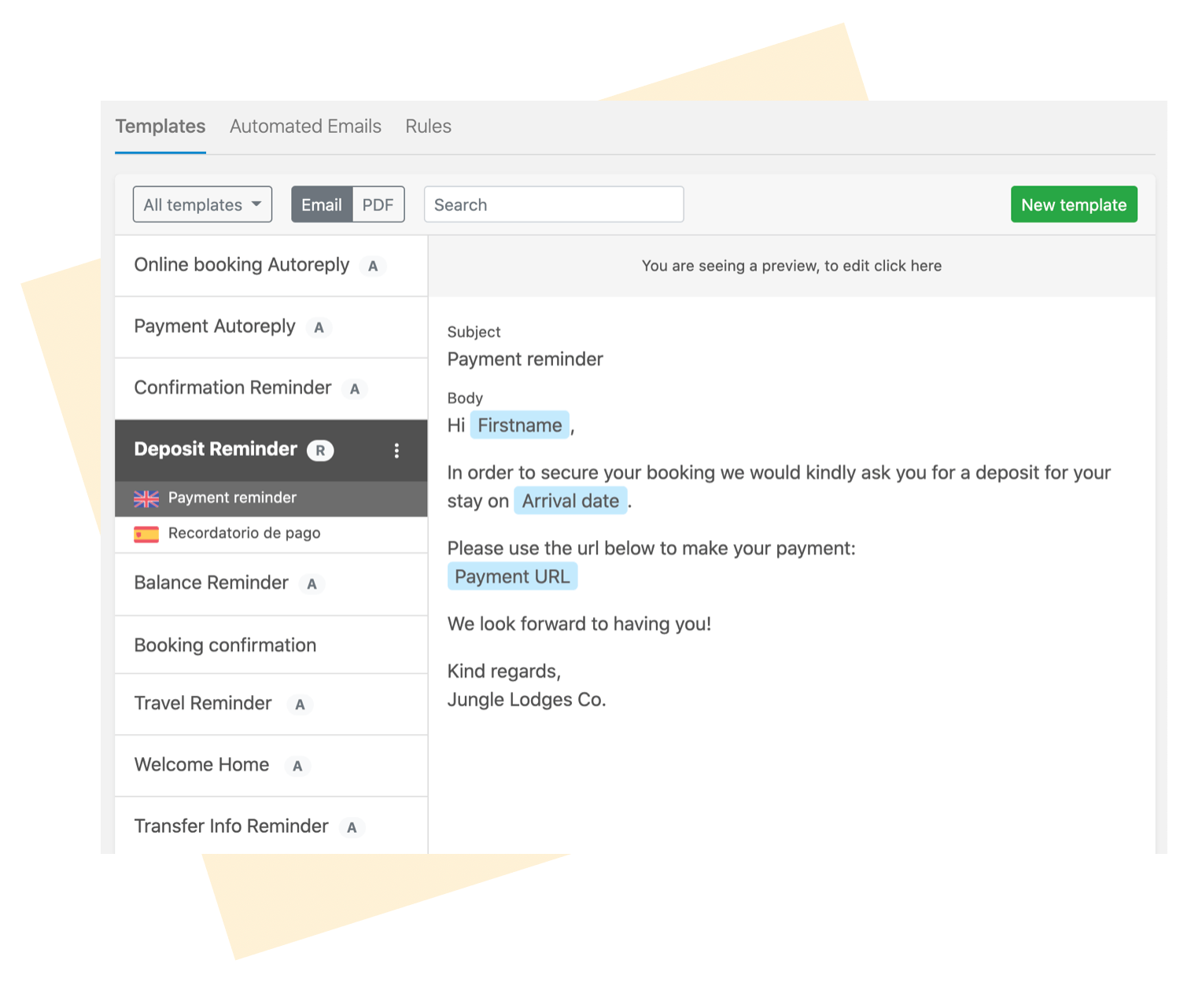 Customer Communication
No need to lose the personal touch
Though you can automate personalised messages, you might prefer to keep humans involved in confirming reservations or emailing your customers. With Bookinglayer, you have control over how far you want to go. For example, you can work with booking requests instead of direct bookings.
Team Collaboration
Reduce human error
With Bookinglayer, booking management becomes a breeze. Forget doing price calculations, sending payment reminders or making invoices as Bookinglayer will do these jobs.
Your subscription can come with multiple Backoffice logins and, since every action in a booking is logged, you can keep an eye on who does what.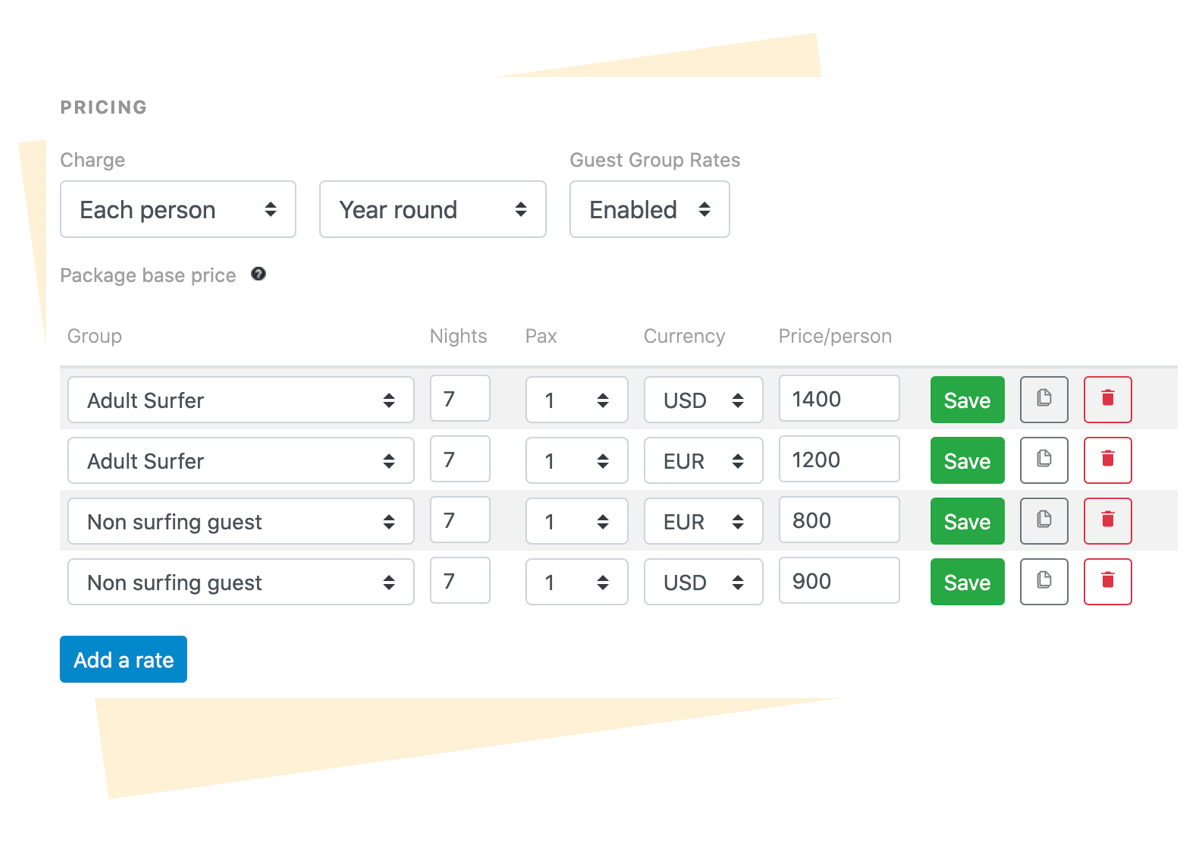 A breakdown of the Backoffice
More functionality than a regular booking system or PMS
Make offline bookings
Booking an accommodation or a customised package via the central calendar only takes a few clicks.
Block dates
Quickly mark dates as unavailable for a selection of rooms via the central calendar.
Make changes to bookings
The booking interface lets you easily add a guest, a single line or a package to the booking. You can also change a date, price or product variant for a single line or a selection of lines.
Work with cancellations
You can either cancel an individual booking line, a guest inside a group booking or cancel the booking completely. When you cancel a booking you can also choose to apply a cancellation fee.
Register payments
Easily register payments in cash or via bank transfer. Your online payment methods will register transactions in the Backoffice automatically.
Check in guests
Easily mark an individual guest as checked-in or checked-out, or do it all at once for everybody in the booking.
Send booking emails
For bookings that are not fully automated, you can use the email composer feature that lets you easily send a booking proposal, booking confirmation, itinerary or invoice via email.
Leave internal notes
To inform other members in your team about a change or conversation you can use the internal notes feature.
Log actions
Every change in a booking is logged. So in the event of human error or some confusion, you can quickly identify who made the change and when it was made.
Packages
Bookinglayer differentiates itself from other reservation systems by letting you sell packages. Bundle anything from your inventory into a holiday package and decide which items are included by default and which items can be selected as add-ons by the booker.
Multi-location
One of Bookinglayer's unique features is the ability to create locations that let you segment your Bookinglayer account. Users can be assigned to a specific location which prevents them from accessing data from another location.
Categories
You can set categories to create a better overview and use filters whenever you need to access certain inventory in the Backoffice. This helps you easily find the precise information you need without having to sift through everything you offer.
Accommodation
From shared to private rooms and tents to apartments, you can sell any type of accommodation. Bookinglayer even lets you establish all male or female dorm rooms based on the identity of the first booker.
Activities
Sell activities based on flexible hours, instructor availability or predefined time slots.
Services & Rentals
Sell a transfer service or a rental as part of a package or easily upsell these add-ons to guests during the booking process.
Donations
Allow your guests to make a donation at the time of booking. This is useful for fundraising campaigns or initiatives to support your local community.
Insurances
If you offer insurances you can add them to bookings at a fixed rate or a percentage of the booking's value.
Direct bookings
Decide whether a product or package can be booked directly or if a confirmation on your side is required.
Deposit options
Set up fixed or percentage-based deposit rules for your bookings.
Arrival options
Per package, you can define when guests can arrive. You can allow arrivals within a certain time period, on a set weekday or on a fixed calendar date.
Duration options
For packages, you can set a fixed duration, flexible duration or work with duration variants (e.g. choose between 7 and 14 nights).
Seasonal pricing
Set seasonal pricing to automatically adjust for high and low periods. This helps you maximize your earning potential without having to remember when to adjust your rates each year.
Quantity & pax pricing
Set rates based on a chosen quantity and/or number of persons.
Guest profile pricing
Set different rates per guest profile, e.g. adults vs teens or a 'surfing guest' vs a 'non-surfing guest'.
Multiple currencies
All your prices can be stored in multiple currencies or converted based on daily/fixed conversion rates.
Taxes
Set up VAT (GST) rates for your inventory items and packages. You also have the option of displaying Tourist Taxes on your receipts.
Day Rates
Increase or decrease your default rates based on occupancy with the Rate Management module.
Discount Rules
Set up discounts and either apply them manually or let Bookinglayer add them automatically to bookings when the conditions are met.
Coupons
Let guests use a coupon code on your online booking form with conditions for certain dates, time periods and group sizes.
Gift Cards
Turn a cancelled booking into a gift card refund for guests' next booking or sell gift cards via your Booking Engine.
Customer data
All of your customer information is nicely stored in one place, which makes it easy to view, manage and utilize guest details.
Email Templates
Save hours per week on writing emails and enable your staff to manage bookings in a simplified manner. Use our built-in email templates such as Travel Reminder, Welcome Home or Transfer Info Request.
Automated Emails
Let Bookinglayer check if a deposit or balance is still due and remind your customers via email automatically using one of your templates.
Personalised Attachments
Set up templates to be automatically personalised for each guest before being attached to your outgoing emails.
Returning Customers
Instantly view who is a returning customer and what they have spent in total with Bookinglayer.
Search
Quickly find a reservation or a guest by booking ID or name using the search bar that is present on every page in the Backoffice. For more advanced selections there are search forms for bookings, guests and invoices.
Special Fields
Work with special fields such as Levels to track the progression of a participant or Diets to capture dietary information.
Custom Fields
Add custom fields to collect data specific to your business.
Multilingual
Set up templates in multiple languages and let Bookinglayer pick the right one for each client.
Email Marketing
With our email marketing integrations you can sync your customer data with your email marketing tool for campaigns.
Photos
Display multiple photos per accommodation option and decide which one is displayed first.
Amenities
Specify the amenities for each room and prevent questions from guests during the booking process.
Child Beds
Decide how many child beds can be placed in a room and what the charge is.
Dynamic Gender Setup
Let the first booking decide the gender configuration for a shared room on a given date.
Planning
Access all the required lists and views that a regular PMS comes with. See Planning.
Channel Manager
Have your availability synced (two-way) with over 150 platforms including Booking.com and Airbnb.
Day Plan
A one-page overview of all your guests, their accommodation and services they have booked.
Week Plan
A one-page overview of all your guests over a period of a week to 10 days. View their booked accommodations, activities and services.
Session Planner
Create groups and assign participants and instructors to them. Reschedule a session in one go and email the group with a single click.
Arrivals & Departures
See at what time and which location your guests are arriving and departing from. Easily print off these details for drivers and staff.
Room Transfers
See an overview of guests who need to change rooms on a given day.
Housekeeping
Print a list of rooms with current and upcoming guests.
Dietary List
Generate a list of on-site guests and their dietary requirements.
Invoices
Invoices can be manually closed or you can simply let Bookinglayer do the job. Invoices can be automatically closed on booking confirmation, arrival or departure date.
Credit Notes
When you make a change to a booking for which an invoice was already created, Bookinglayer simplifies creating a credit note for the change.
Invoice Numbering
Our invoice numbering logic supports adding a prefix or suffix to your invoice number.
Invoice Templates
Bookinglayer comes with a professional invoice template but you are free to design your own. For multi-location configurations you could have a different template per location.
Accounting Integration
Have your customers, invoices, credit notes and payments exported to a external accounting system such as Xero.
Dashboard
Access your KPIs with Bookinglayer's real-time dashboard, helping you to make the right decisions for your business.
Financial Reports
Generate lists of bookings, payments or invoices for a given period and automatically calculate all totals.
Custom Reports
Generate and send reports in CSV or Excel by email based on a schedule you define. Create reports for payments, invoices, bookings or guest data.
Take your business to the next level
Core Integrations
Bookinglayer seamlessly integrates with leading cloud apps
Payments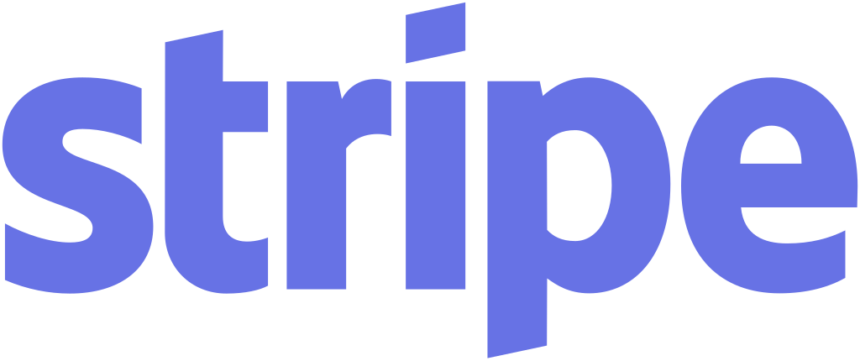 We support over 30 payment gateways for accepting online payments but our Stripe integration offers the most functionality.
Charge a card on file
Preauthorise a card
Execute refunds
POS

We recommend using Lightspeed when you need a restaurant or bar POS solution that integrates with your reservation system.
Guests exported to Lightspeed
Bills pulled into Bookinglayer
Payment registration
Accounting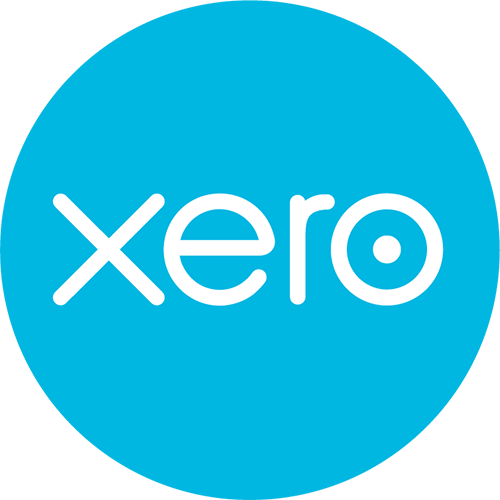 If you would like to integrate your booking system with an accounting solution, we recommend using Xero.
Contacts
Invoices
Credit Notes
Payments
Frequently Asked Questions